MOVIE REVIEWS

Reviewed by Marion and Frank Atkinson
---
When Lily graduates from university, her parents David and Georgia see her future as a successful lawyer. She holidays in Bali where she falls in love with a local lad and the tropical lifestyle. Naturally on hearing the good news, they fly there immediately, determined to talk sense to her and if necessary, sabotage the imminent wedding and return with her in tow.
Unfortunately, they have been divorced for many years, the acrimony is still real, and to complicate matters Georgia has an ardent beau present who is keen to propose. It is not difficult to guess the ending, but the fun is in the journey. George Clooney and Julia Roberts are well-suited in their roles as bickering parents and they get the most out of the clever script, with cutting comebacks and one-liners delivered with style.
Ticket to Paradise is a light-hearted, romantic comedy which showcases two accomplished Hollywood favourites as well as much of Queensland's iconic scenery, and seems to have been as much fun for the actors as for the audience.
You are sure to enjoy these light and fluffy 104 minutes of easy viewing which are sure to take your attention away from our troubled times.
---
Based on director Tyler Atkins' own life, this Australian film focuses on a father/son relationship that is definitely not run-of-the mill.
Teenager Rockit (Rasmus King) is virtually left to look after himself which includes wagging school to surf the waves, while his marijuana-farming father takes care of the business. They appear to be living the dream, but a sudden appearance of a crooked cop, and a bushfire that destroys the property puts them both on the run.
A three month 'holiday' at Byron Bay sees Rockit cement a friendship with Ash-Ash (Savannah La Rain), a sensible teenage girl who brings some stability to his life. However, the lack of proper fathering by the con man and small-time crim Bosch, inevitably leads to a show down between the two.
The beautiful and expertly shot scenes of father and son surfing the waves are in stark contrast to the ugly side of their lives and some of the people, including Rockit's depressed and alcoholic mother. The film's crude language certainly earns it an MA+ rating.
Bosch and Rockit is a cut above the usual Aussie cinematic offering and the acting and general presentation of the film are of a high standard.
---
Jane (Australian actress Odessa Young) is a maid working for the Nivens, a well-to-do couple living in a grand house in England's countryside. She dreams of being a writer one day and is having a long-term romantic affair with Paul (Josh O'Connor) the son of Niven's friends who live nearby.
Paul has returned from the war, having lost his brother and childhood friends, is studying law and is engaged to soon marry a woman of his own class. He dies in a car accident and we are left with the question, was it an accident through reckless speed, or a deliberate ending because of depression and the unbearable prospect of an unhappy future without Jane.
The genteel life of the upper middle class is accurately depicted with Colin Firth as Godfrey Niven being awfully well-mannered as he quietly tolerates his wife's overpowering bitterness at having lost both her sons in the war.
At 105 minutes it is not overly long but moves at a sedate pace, frequently punctuated with scenes of Jane languidly strolling naked through her lover's mansion.
The movie is well-produced but unfortunately of little consequence.
---
Set in England in the early 1900s, this biological drama tells the story of Siegfried Sassoon, poet, writer and soldier, who as a lieutenant is sent to fight in Europe. He is horrified by the tragic loss of so many lives, and the apparent lack of progress towards an end to the mindless bloodshed. As a result of his letters to the British government condemning the war he is transferred back to recuperate at a mental hospital.
He falls in with a small group of homosexuals, 'comes out,' and the rest of the movie is mainly concerned with his social life – the indolent young men, their petty quarrels, catty remarks and clever repartee.
The film is wonderfully crafted, with still scenes from the war, and Sassoon's poetry being read throughout as a voiceover, both of which provide very powerful statements. The choice of music is surprising but quite apt, especially at the very end of the film which returns to Sassoon's ongoing feelings of guilt and despair.
Jack Lowden as a young Sassoon, Jeremy Irvine as his cruel lover, and Peter Capaldi as the grumpy, lonely, elderly Sassoon are outstanding.
---
When serial bank robber Danny (Jake Gyllenhaal), convinces his half-brother, stable but financially desperate Will, (Yahya Abdul-Mateen II) to join him in his biggest every heist - millions sitting on a table just waiting to be scooped up - you know that something is going to go wrong, not slightly but spectacularly.
The result is mayhem on a grand scale, with Danny and Will plus two bystanders in an indestructible ambulance leading LA's police force on a chase reminiscent of Fast and Furious, with almost as many police cars totalled as in The Blues Brothers.
Even so, ninety minutes of speeding vehicles can become monotonous, despite having cop cars, motor bikes and aerobatic helicopters in the chase, so the plot includes various surprises to maintain the tension. The use of an ambulance also allows for some gory scenes.
Everything about Ambulance is exaggerated to the extreme. It is non-stop action and noise laced with some humour, and some shoot-outs with an amazing arsenal of weapons.
Jake Gyllenhaal is great as the glib, street-smart but crazy gang leader, and the action sequences filmed from drones is a stand-out feature that lifts the whole cinematic experience.
Ambulance is great escapist fun. Just sit back and enjoy the ride.
---
You have to feel sorry for Cyrano. Even though in the marvellous opening scene where he proves to be a magnificent swordsman and a commanding speaker able to sway a crowd, he is only four feet tall (135cm). In his mind, this prevents him from wooing the love of his life, the most desirable Roxane (Haley Bennett).
So strong is his love for her, that when she is smitten by Cyrano's fellow guardsman, Christian (Kelvin Harrison Jnr), he agrees to her request (and later to the tongue-tied Christian's own plea) to bring them together with his ability to charm with words and verse.
In this classic tale set in France in the 19th Century, Peter Dinklage is outstanding in the lead role, whether singing, fighting or suffering from unrequited love. The production is of a very high standard with meticulous detail to scenery and costumes, and the many close-ups during moments of great emotion are very effective. The script is central to the plot and reflects the language of the times, even though you may have to ignore the occasional 'wanna' and 'gonna'.
If you enjoy musical dramas, you will not be disappointed with this latest adaptation of the story of the life of a real person, even though it was actually an extremely large nose that was the problem, not his stature. Ladies may need to take a hankie or two, perfumed of course.
---
In this biopic we are introduced to Aretha Franklin as a 10 year old (Skye Dakota Turner) who had, even at that young age, such a voice that there was no doubt she was destined for greatness. She grows up with a musical talent that is shared by her mother and sisters, and which is fostered by her Baptist pastor father (Forest Whitaker).
As is the case with many artists, the road to success is rocky, and the film dwells on the loss of her mother which traumatises her, the effects of an over-bearing father, a disastrous marriage to an abusive husband (Marlon Wayans), followed by a period of depression fuelled by alcoholism.
In spite of these and other setbacks, she finally escapes her father's influence, moves from gospel to soul music, finds her own strength of purpose, tours Europe under the guidance of an entrepreneur Jerry Wexler (Marc Maron) and becomes a huge global star.
Jennifer Hudson is awesome as Aretha, surely an Oscar-winning performance, nailing most of the best known hits in this slightly over long but fascinating account of the much awarded 'Queen of Soul'.
---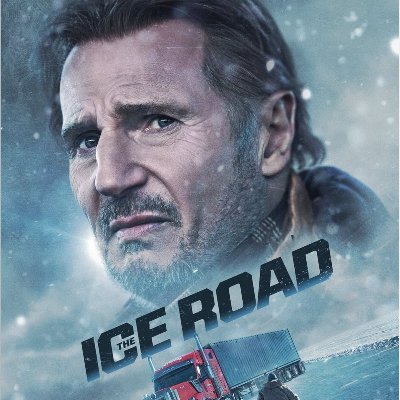 Liam Neeson is well known for roles in such movies as Taken, The Grey and Cold Pursuit where he plays the role of a regular nice guy who finds himself faced with danger, but discovers the strength, determination and resourcefulness to overcome all obstacles.
Ice Road is no different, and the scene is set when an explosion in a remote Canadian mine traps 27 men, and Mike (Liam Neeson), with his brother and 2 other vehicles set off to deliver the necessary heavy equipment to save them.
The director Jonathan Hensleigh throws every obstacle possible in their way as they traverse barely frozen roads that are rapidly thawing too soon. The danger from natural disasters is compounded by the plans of villains who are bent on stopping the convoy.
The race against the elements and time provides non-stop thrills and suspense. Fans of action movies will enjoy the spectacular special effects which are the highlight. They will no doubt, learn a lot about ice-trucking as well.
---
Based on a very successful stage play, the cinematic version has the advantages of using the actual streets, parks, and even a lively choreographed scene of a swimming pool, in Washington.
The plot focuses on the dreams and aspirations of a close-knit community of migrants from South America who are trying to find their place in the States while maintaining their cultural heritage. There are various sub-plots on the same theme, but the scene stealer is bodega-owner, Usnavi (Anthony Ramos), a genuinely charismatic, nice guy who narrates the story in rap style. He is ably supported by a talented cast of singers with beautiful voices and crowd scenes of exuberant dancing in the streets that you would expect in this type of musical.
In The Heights is almost 2.5 hours of music, dancing, colour, energy, and passion that is wonderful entertainment for lovers of musicals. The exuberance of the cast is infectious. Watch out for the very clever and seamless special effects of the dance scene that takes place on the side of a tenement building.
---
Hannah is a specialist firefighter, called a smoke jumper and a tough cookie. In this hazardous field of firefighting, she is always ready to mix it with the macho guys, both verbally and physically, to prove she is as competent and smart as they are.
Unfortunately, she recently made a crucial decision on a job and is now haunted by the tragic outcome. Consequently, she has been relegated to a solitary life in a watchtower in the mountainous Montana wilderness. Her resourcefulness, determination and her soft side prove vital when she encounters a skittish boy who is on the run from two callous hitmen.
Those Who Wish Me Dead, directed by Taylor Sheridan, is exciting and well-produced with amazing photography of fire storms, reminiscent of our own recent devastation.
Angelina Jolie is quite believable as Hannah who is determined to protect Connor, our own Aussie star Finn Little, who is well-suited to the role of a lad in desperate trouble.
Nicholas Hoult and Aidan Gillen play the parts of the cold-blooded assassins in this well-constructed action drama which received appreciative applause at a recent theatre preview.
---
Derrick, with friend Rafe, has built up a very successful sports agency. He has a dream home, a beautiful wife and a lavish lifestyle. However, he is under pressure from his business partner to sell and also suspects his wife of infidelity. He meets Valerie at a disco, has a one-night fling, as you do, and suddenly his life starts to crumble in a spectacular fashion, especially after Valerie reappears on the scene. Meanwhile, in a parallel plot, we learn that Valerie is trying to gain access to her daughter from her ex-husband, with little hope of success.
Michael Ealy as Derrick, a rather weak character, plays the part well, and Hilary Swank as Valerie is awesome as a driven, resourceful detective. They both enhance a somewhat predictable plot and the fact that FEMME is missing from the title will not fool anyone and does not detract from the production.
Fatale is quite noisy with metallic clangs and a low continuous droning that may tend to annoy. (Even the lift to Val's apartment sounds like a garbage truck). However, this latest effort from director Deon Taylor is very watchable, a slick, sleek, adult mystery thriller that will keep you in suspense with various twists and turns until the end.
---
In the second half of this century, a spaceship sets out on an epic journey to colonise a new planet. On board is a group of children, especially chosen for their intelligence and genetic inheritance, accompanied by their teacher. They study, work, eat and sleep in a sterile, unemotional world of bland, hard, white surfaces and set routines.
All is well, until as teenagers they discover a secret which will change them from little robots to human beings with personalities, curiosity, and desires. Knowing that they will die in space is a further catalyst to the dramatic change in their lives that will follow.
The similarity to the novel Lord of the Flies in which school children are forced to co-exist on a deserted island is obvious. However, Voyagers, explores a sci-fi update to that theme which is no less brutal and savage.
The plot is believable, the tension is palpable, and the characters are true-to-life in a film that will draw you in to the very end. Voyagers is a very real examination of human strengths and frailties under-pressure in extraordinary circumstances.
The scenes of their life in outer space are amazing and realistic.
---
For those fans of the two largest monsters on earth, this film will, much to their delight, continue the fantastic journey, with a massively destructive battle as the grand finale.
For the rest of us, the action is no less exciting, although perhaps the plot is a little harder to follow. Kong is stranded on Skull Island, safe but not content, longing to return to the Hollow Earth. Godzilla meanwhile, is very angry at everyone and everything, and is destroying all in his path.
To complicate matters, there is Kong's team of carers, including the orphan girl Madison (Millie Bobby Brown) who can now communicate with him, and calm the savage beast, plus the CEO of a tech company, APEX, who wants to save the earth, and an APEX technician and two nerdy teenagers who want to stop the CEO.
However, the heroes are Godzilla and Kong, who provide all the visual action you could want. The special effects are absolutely spectacular from the very first scene which has Kong having a shower under a waterfall to the wholesale destruction of an Asian city.
At a cost of $170M (US) and a crew, that must run at least, to a thousand, this blockbuster will keep audiences enthralled.
---
In the 1970s, the Black Panther Movement was expanding rapidly, with branches in most states, protesting their people's lack of human rights. The Illinois Chapter was led by Fred Hampton, a charismatic and forceful leader who preached active revolution and engendered hatred of the 'pigs'. His troops were heavily armed and there is no doubt that there would inevitably be war and bloodshed.
Daniel Kaluuya is mesmerising as the Black Messiah who is prepared to sacrifice his life and even put that of his wife in danger for the cause. William O'Neal is his betrayer who, following felony charges and certain jail, keeps his freedom by passing on information to the FBI. LaKeith Stanfield is excellent as the false friend who wants to be a true follower but knows that to do so would mean certain torture and death.
Judas and the Black Messiah is a powerful, brutal drama that pulls no punches and apparently depicts the horrible truth of the corruption and vengeance of those terrible years. This documentary expose will remain with you for quite a while. It will be interesting to see if it garnishes the cinematic awards that you would expect from such outstanding performances and gritty production, especially given the recent BLM protests.

---
You have to feel sorry for Teddy (Rafe Spall). After meeting the love of his life Leanne (Zahra Newman) in an hilarious opening scene, then wooing and marrying her, disaster strikes.
Every few minutes, he loses a whole year of his life. Apparently, he is work-obsessive, so while his love for Leanne is still strong, his marriage is crumbling, and he only has a few precious moments to make amends before another year is lost. Suddenly Teddy, the procrastinator, must make every moment count.
Cleverly scripted and directed by Josh Lawson, this fantasy comedy is fast-paced fun of the time-warp variety. Spall and Newman work very well together as he is frenetic and frustrated as opposed to her quiet and stable personality, but it is Rafe Spall as the fast-talking, impetuous and totally confused Teddy who carries the movie. Teddy's best friend Sam (Ronny Chieng) plays an important role as Teddy is in even more trouble with Leanne as he misses celebrating each wedding anniversary. There are a few emotional moments also that may bring a tear to the eye.
The audience at the preview of this Australian comedy showed their appreciation with sustained and well-deserved applause.
---
With this serial-killer thriller, set in LA in the 90's, you may expect the old set piece, especially after viewing the scary opening scenes. However, director/writer John Lee Hancock concentrates on the personalities and interactions of the three main characters, rather than dwelling on gory scenes of mutilated women. There are no cardboard stereo types here.
Denzel Washington is Deke, a lowly deputy sheriff but with a good reputation who is in LA on an assignment. He is talked into staying on by a young, ambitious detective, Jimmy Baxter (Rami Malek). Some solid police work by Deke leads them to suspect Albert (Jared Leto), a creepy and devious weirdo who taunts them and cleverly frustrates them.
It is revealed by several flashbacks that Deke is mysteriously haunted by events from an earlier investigation of a similar case. Baxter is a sensitive family man who lacks the experience to handle his emotions. Albert seems to be always one jump ahead and enjoying the cat and mouse chase.
The ending, with a surprising twist or two is worth waiting for, leaving the question of guilt unresolved and the conviction that a cop's life is not all black and white. It this case, in fact, a very dark shade of grey.
With three stars of the ability of Washington, Malek and Leto, (who has earned a Golden Globe nomination for his efforts here), you are assured of an absorbing movie.

---